In this episode of Kunes Car Convos...
02:34 - What is Mac trained for?
07:04 - Learn what MPD does to give back to our community!
10:56 - Speaking of small towns, there goes Coach!
13:43 - MPD offers programs for those interested in joining their department.
At Kunes Auto Group of Macomb, we're more than just cars; we're about community. Today, we spotlight Royce Lee, our General Manager, and Officer Nick Severs of the Macomb Police Department, a dedicated officer with a unique partner: Mac, his K-9. So take a spin in and buckle in as we chat in the 2023 Dodge Charger GT and learn more about the Macomb Police Department.
Meet Officer Severs and Mac, the K-9 Star
Nick Severs isn't just an officer; he's a local hero. A proud Macomb High graduate of 2013, Nick pursued further studies at IA State in Ames, IA, before returning home in 2016. With passion flowing in his veins, he quickly found his place in the Macomb Police Department. But his most treasured partnership began in late 2018, with Mac – a German Shepherd Mal mix, hailing all the way from Hungary, complete with a puppy passport!
Officer Mac: More than a Dog
Mac's training is ongoing and intensive. Unlike dual-purpose K-9s, Mac's skills are honed for narcotics tracking and evidence search, excluding any bite work. This means he's trained to locate substances like methamphetamine and even find evidence, such as spent cartridges at a crime scene. This dynamic duo trains 16 hours a month, ensuring their bond only grows stronger.
Outside work, Mac shifts roles effortlessly, becoming a beloved pet at home. His love for Beggin' Strips is legendary, almost as much as Kunes Auto Group's support for the K-9 unit.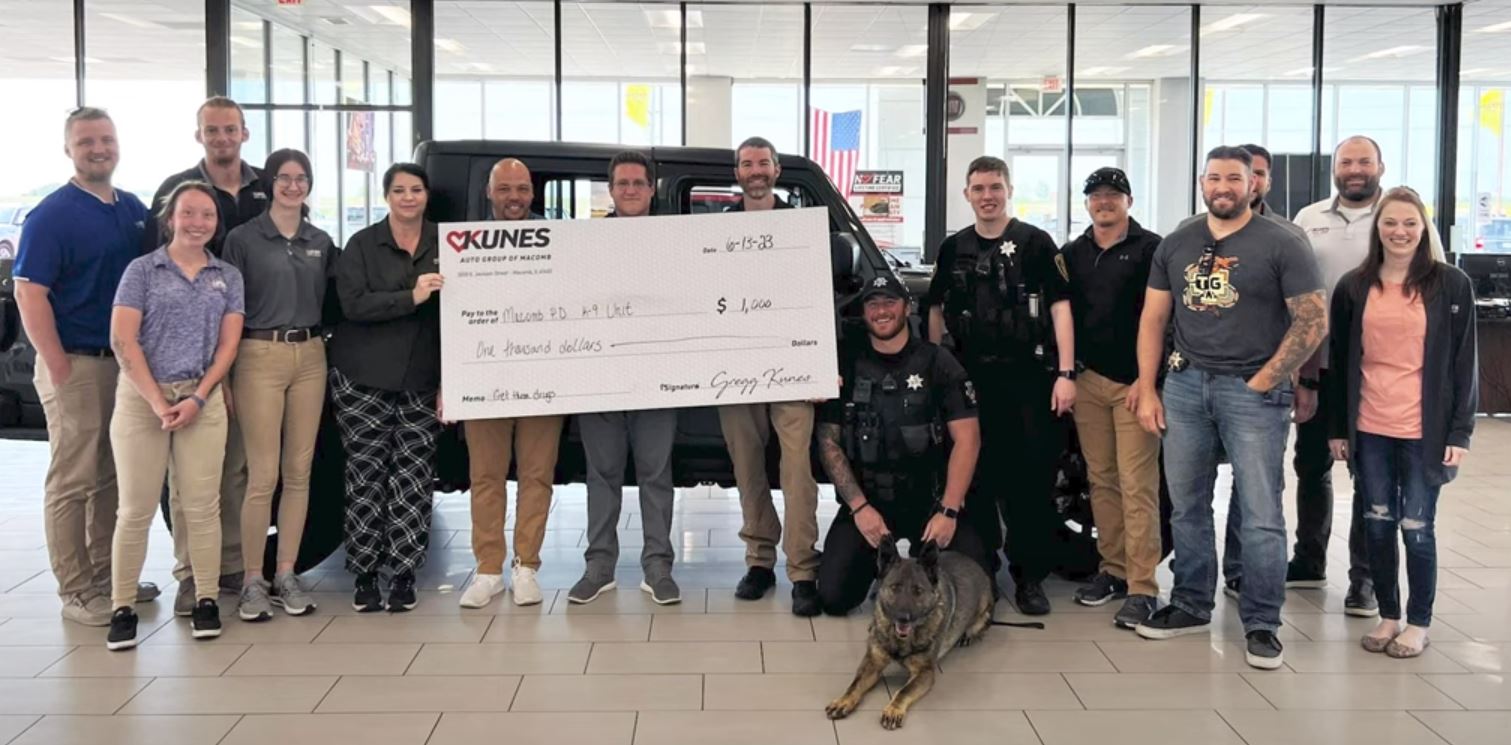 Kunes & The K-9: A Priceless Partnership
The initial cost for setting up a K-9 unit can stretch up to $30k. Kunes Auto Group, dedicated to community welfare, has always stepped up, helping the K-9 unit bounce back with contributions whenever the need arose. The introduction of the 2nd K-9 officer last September? Kunes was right there with donations.
Community at Heart
Officer Severs cherishes community events like the Scott Jennings Memorial Fishing tournament and the Shop With A Cop initiative every December. Such events forge bonds, allowing the community to see officers as fellow humans, friends, and neighbors.
Officer Severs loves those random encounters, where locals recognize him as "the officer with K-9 Mac." Such bonds reaffirm the belief that working collectively can make Macomb a wonderful place for families.
Fun Facts & Beyond
Did you know Officer Severs drives a Dodge Charger, perfectly suited for his tall frame and Mac's comfy kennel? And speaking of driving, a friendly tip - watch your speed on Hurst Drive and HWY 67! Officer Severs has clocked drivers going as fast as 90 mph at this spot at the edge of town!
As we wrap up, we're reminded of an amusing incident involving Kunes at 4 am, a goat, and a rottweiler! An unlikely duo, but a story Officer Severs cherishes. It emphasizes that amidst the challenges, there's always a place for light-hearted moments, especially when communities come together.
Join us at Kunes Auto Group of Macomb as we continue to celebrate these incredible stories, always striving for a connected and vibrant Macomb.